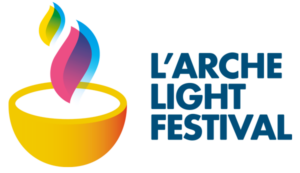 Once again this year, members of L'Arche around the world can catch that spirit of solidarity, togetherness, and hope by taking part in the third edition of the online event called the L'Arche Light Festival. This event will be celebrated on 30th September, one day before the L'Arche Family Day.
Each Festival is packed with ideas to help communities. And here's two examples of many: the workshop on "Inclusive meetings" where each person can share their know-how about how to make meetings fully  accessible by everyone, with and without disability. And anyone dropping in on  "Art around the World" is sure to pick up plenty of ideas on creating colorful artwork.
Again, this year's Festival will bring together 5 continents, 38 different countries, and people of different colours, abilities, beliefs and backgrounds: diversity and each person's unique gifts is written into the L'Arche culture. But to see this respect in action, through this online event, is always a real eye-opener, perhaps especially members who have just joined L'Arche.
As L'Arche gears up to its first online International General Assembly in 2023, the L'Arche Light Festival gives a bright foretaste of that milestone event, as well as the chance to develop one's online skills.
_________
L'Arche Family Day is celebrated online. All the details by clicking :