Update – July 30, 2022
Fleeing war into the unknown, mother and son find welcome and inclusion
Like many in the eastern Ukraine city of Zaporozhye, Viktoria Lysenko says sirens and explosions kept her family in a constant state of stress and anxiety.
Yet unlike most other civilians there, Lysenko and her autistic son, Andrei, could not flee to the safety of one of the city's civilian bomb shelters.
"There were too many people for him," the 14-year-old's mother said.
//= $link['url'] ?>//= $link['title'] ?>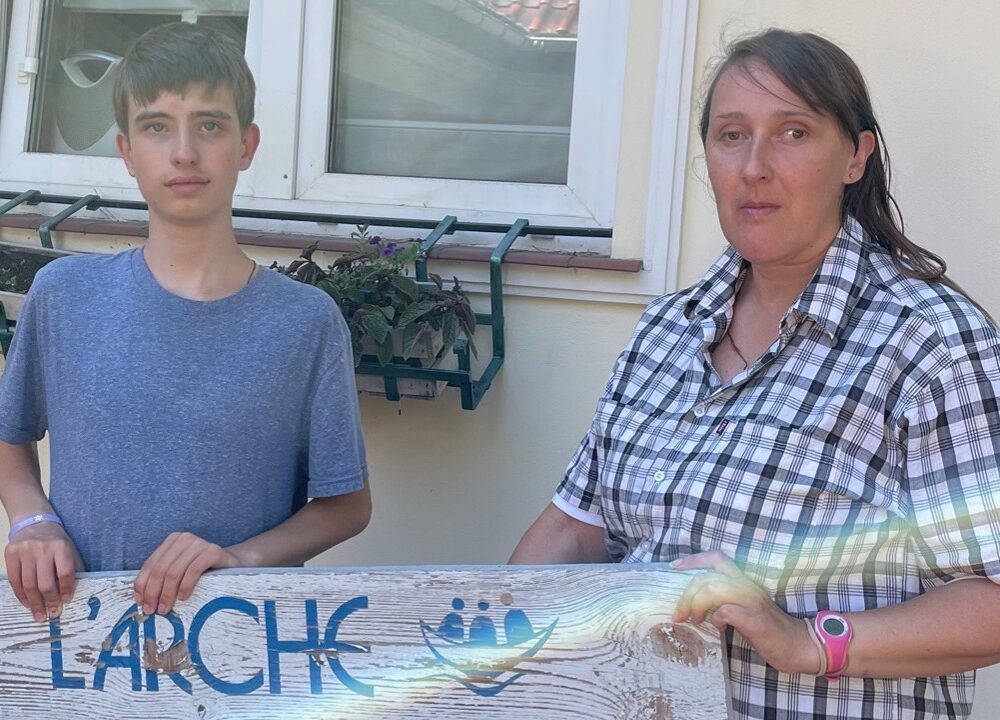 Crowds, noise and jolting sounds can be stressors to individuals with autism spectrum disorder.
Lysenko ushered her son to wait out the continuous alarms in a hallway. That is, until the dangers of war crept too close.
"Andrei kept repeating that we were going to be killed and was very nervous," she said. "When I saw that Andrei's mental state was rapidly deteriorating, I decided to evacuate."
Like many other parents of a child with an intellectual disability, Lysenko was forced to gamble in a very dangerous game – risking staying in an environment where her son's sensory needs could be relatively managed, held against the risk of stepping into the unknown of fleeing.
How would Andrei react if forced to seek immediate safety and shelter in public? How would he react if challenged by soldiers at a checkpoint?
When the risks of staying home, surrounded by war, proved far too great, Viktoria and Andrei finally decided to flee.
"In Lviv, I met the L'Arche organization for the first time," Lysenko said. L'Arche staff in Ukraine helped me feel safe and gave me valuable information about Andrei's autism diagnosis."
People with intellectual and developmental disabilities were frequently institutionalized and pushed from public view in former Soviet republics. Founded as a stand against forced institutionalization and marginalization, L'Arche celebrates the gifts of all people – even in times of war.
L'Arche helped Viktoria and Andrei to reach Poland, ensuring Andrei's sensory needs were met as much as possible along the way.
"From the first day we were surrounded by care and attention"
Once in Poland, L'Arche staff ensured the family had everything they needed to feel safe in Poland, sharing fellowship and meals in L'Arche homes, ensuring access to hygiene and other supplies, and that the family could register as refugees with the Polish government.
"From the first day we were surrounded by care and attention," Lysenko said. "It is difficult to describe in a few words how much they did for me."
Most of all, Lysenko said she and her son feel a sense of welcome and inclusion that they have not experienced.
"Most importantly it involves the ability to communicate for my son," she said. "Because of his diagnosis, Andrei has been living in seclusion in Ukraine, and at L'Arche he socializes a bit: he goes to evening prayers, attends social events, and even visits church, which, given his fear of people, can be considered a miracle."
Andrei has even attended school for the first time, where a teacher said he shows promise that learning and being part of a school community may be possible.
"With the beginning of the war, I had a feeling that a great darkness was approaching," the mother said. "But fate showed that there is room for light, goodness and joy in our world."
Update – June 7, 2022
"We feel enormous support"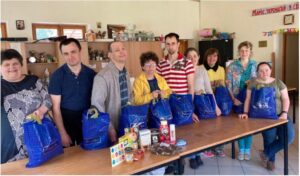 This is a letter from Lesia Larikova and Oksana Zakharevych on behalf of all members of the L'Arche communities of Lviv and Ternopil
L'Arche communities in Lviv and Ternopil are in the area furthest away from hostilities, but this does not mean that they do not feel the war.
"Almost every day we hear the sound of sirens announcing the air threat," L'Arche Lviv Community Leader Lesia Larikova said. "Sometimes this roar is interrupted by the sound of explosions and, after the explosions, by the sirens of emergency vehicles, until finally silence falls.
During the war, we all love the silence. We receive it as good news," Larikova said.
The war has shown the connection of L'Arche around the world.
"We feel enormous support and are very grateful to every person and community who reached out to help us," L'Arche Ternopil's Oksana Zakharevych said.  "We have received many messages with assurances of prayer and expressions of support and encouragement.
Our twice-weekly prayer times still center us. We are very grateful to all those who have participated. This has been very important and has made a huge difference to many of us."
All the while the communities of L'Arche in Ukraine understand generous donors have made it possible for humanitarian aid, in the form of food and necessities, to reach them and keep them going. Donor support has meant L'Arche workshops can continue to operate, and the community can remain connected.
"Isolation is a problem for many in the disabled community in normal times, and the war made this worse," Larikova said. "Your donations meant that we were able to purchase equipment for remote communication."
Demand for L'Arche's spirit of welcome has remained steady. Refugees from intense fighting in the east continue to show up in Ternopil and Lviv, seeking respite, shelter and other support.
Community life continues despite the war and the alarm sirens. "We organise community meetings and celebrations, although mainly via the internet,"  Zakharevych said. "The most important thing is that we have each other and everyone is alive and safe."
Community members says alarm sirens, after 100 days of war, are not as scary as before.
"There is a shelter near every workshop that we all know the way to and go to without panicking when there is an alarm," Larikova said. "Still, we find it hard to get used to war. We hope that it will end soon."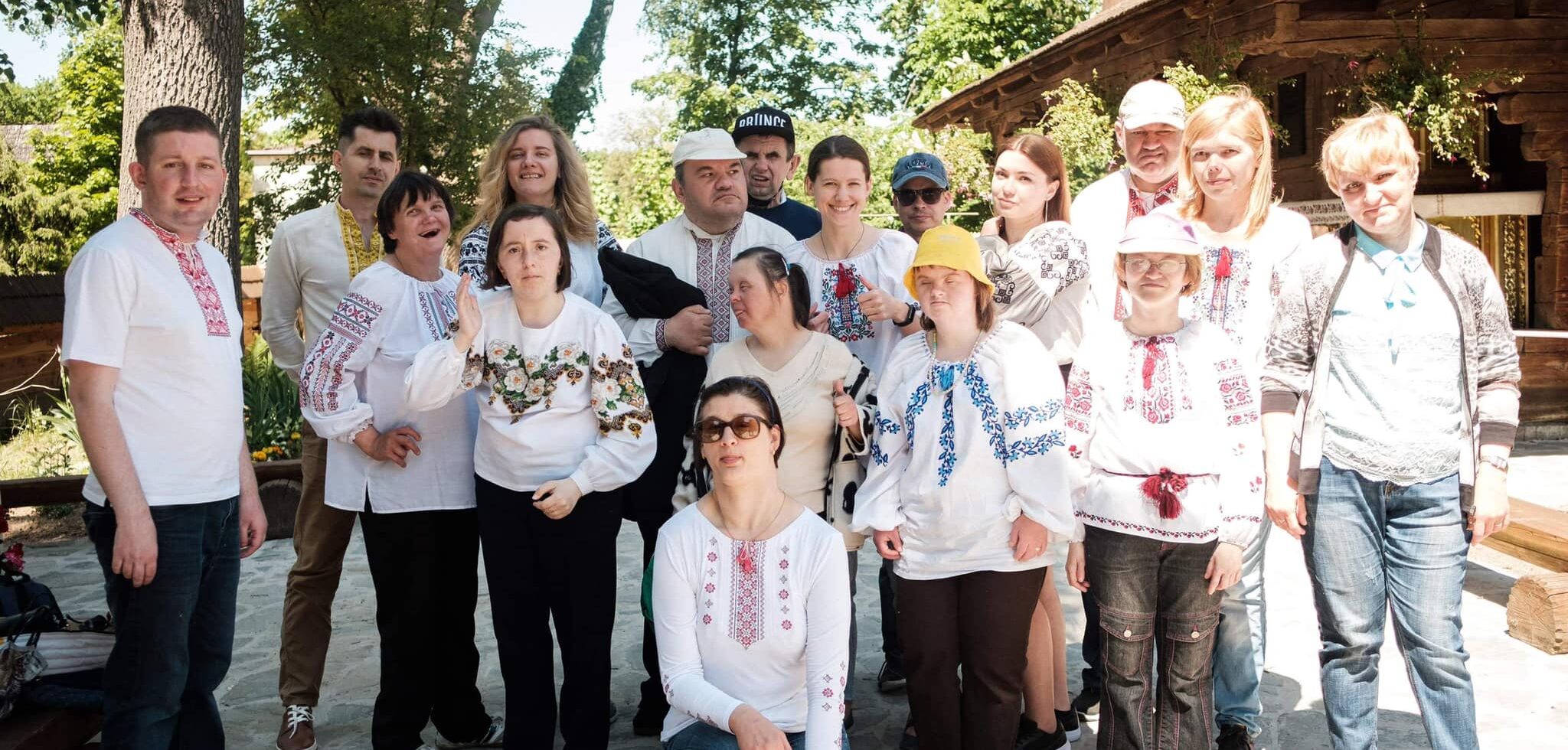 Emergencyappeal
Your gift to the L'Arche Emergency Fund will help ensure some of the world's most vulnerable citizens are safe, in Ukraine and other places where disaster may strike
Donate