After a year of Covid delays, L'Arche Aywaille, Belgium has opened a new soup bar: 'PAUSE'
Elise, who has an intellectual disability, is thrilled she can finally put all the skills she's learnt to good use at the soup bar, says: "For me, the work is great! We meet a lot of people! It?s really nice seeing people come back because they appreciate our welcome and the good service. Personally, I love everything I do at 'PAUSE'?! I am super-super-motivated. But sometimes, even I have to stop. It's great to be working together, hand in hand."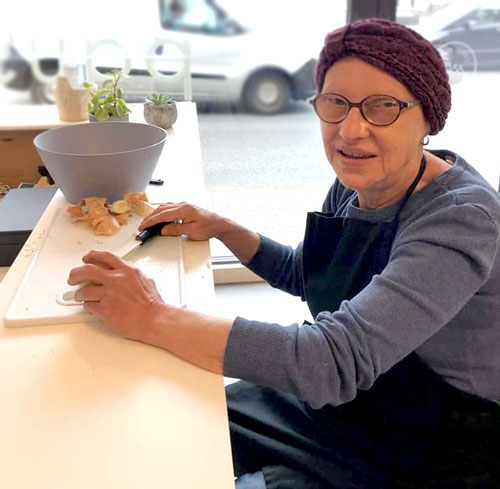 The community began thinking about developing a new project a few years ago to meet two basic needs: first, for members of the community, with and without intellectual disabilities, to gain job skills; and more importantly, to integrate better into village life. They needed a project where they could get to know their neighbours better and their neighbours could get to know them.
Supported by a legacy gift, the community investigated various concepts, including an art store and a clothing store. As they listened more deeply to each other, it became obvious that many members with disabilities wanted to start a restaurant. They wanted to be like other local food-outlets, and nourish part of the villagers' day.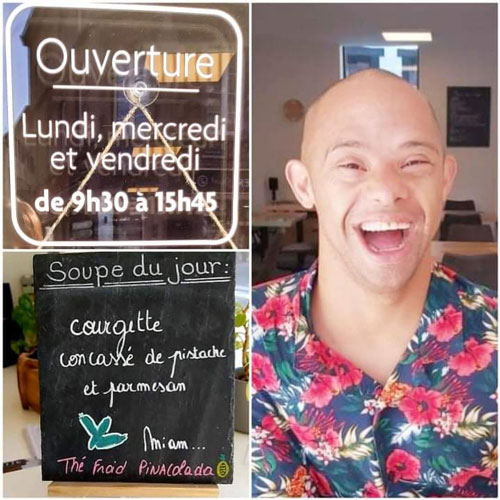 What kind of restaurant? They soon realized each person, whether or not they had an intellectual disability, already knew how to transform seasonal vegetables into delicious soups – a regular staple on the lunch menu at home. If they could also recreate, in a business setting, their moments of joy around the dining room table, then perhaps a soup bar would be a success.
They trained for two mornings each week, upskilling the members in various tasks, including: hosting, preparing fair trade coffee, processing payments?  and even though each person already knew how to make soup, they still had to learn how to clean and cut vegetables on a larger scale and develop enough recipes to keep customers coming back. People learnt about arranging the dining room and shopping for ingredients; some made handicrafts to sell alongside the food; others picked the uniforms.
By the spring of 2020, everyone was well-trained, and all the hiccups had been resolved. Sadly, instead of opening a soup bar, the community went into Covid lockdown. However, the community turned this potential setback into an opportunity to further develop the training so that by the time the lockdown was lifted, their soup recipes and service skills were highly polished.
Today, everyone in L'Arche Aywaille is so proud of what they?ve created.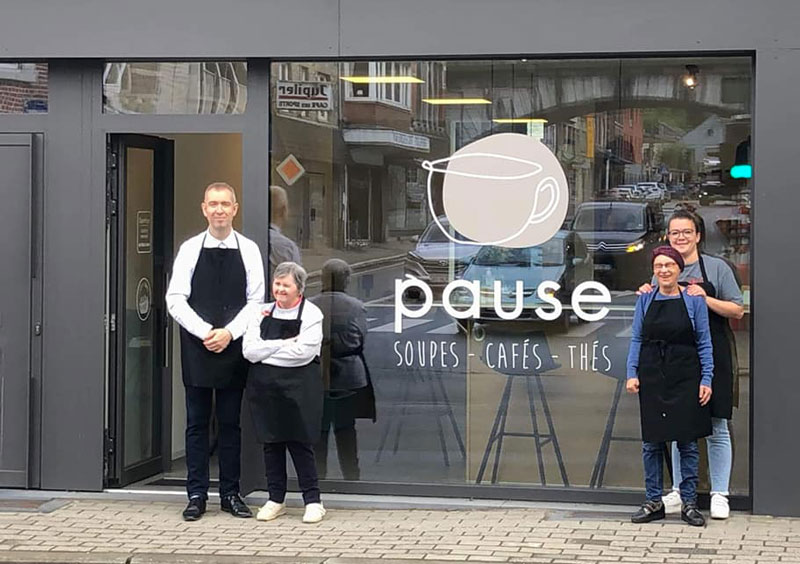 Olivia explains: "I prepare coffee, cappuccino and soup with all kinds of vegetables. I love the 'PAUSE'. I?m having a great time there. From time to time, I also like to drink a small herbal tea. I like it when my family comes to eat with me." For herself and others with an intellectual disability, 'PAUSE' offers a recipe for success, a way of connecting with the wider community.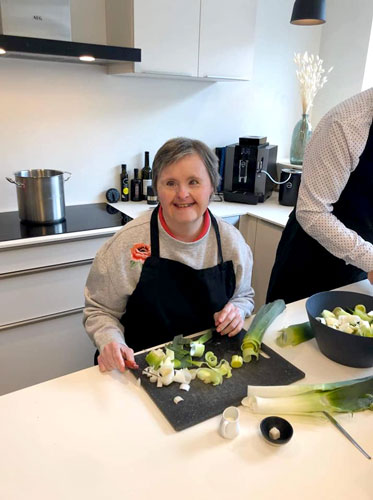 We invite you at Rue Jean Wilmotte 10, 4920 Aywaille!
Let us treat you to a 'PAUSE' Belgium style!
____
Other restaurants
Restaurant Katimavik ? France
L?Arche Tova Cafe ? Canada
Root Soup ? Northern Ireland