"Every time we really understand what Roberto means, it's a very precious moment." Luca, an assistant from L'Arche Bologna, (Italy), talks about his friend, community member, Roberto. Besides his intellectual disability, Roberto does not speak, see or hear. So how to communicate?
"It's a challenge," admits the community leader, Teresa, "but if we really want a shared world, we must try to give everyone the opportunity to communicate and be heard." For Roberto, what works best is the Italian sign language, adapted to touch. It takes time, but the rewards are beyond words!
Daniele is another deaf and blind deaf community member with an intellectual disability: "one day we were planning a trip to the beach", says Luca: "to make it clear to Daniele, we made him feel the sign of the sea and then touch the mask and fins. Immediately, Daniele smiled and made the gesture to start the engine of an outboard and to fish. At that moment, we knew we understood: And I can tell you, if we enter the world of Daniele, this is always a moment of great emotion! "
Luca continues: "the world of the deaf is a world that seems strange to our world of sounds. But with sign language we create a shared ground on which we can meet. And for Daniele, that is a source of great tranquility".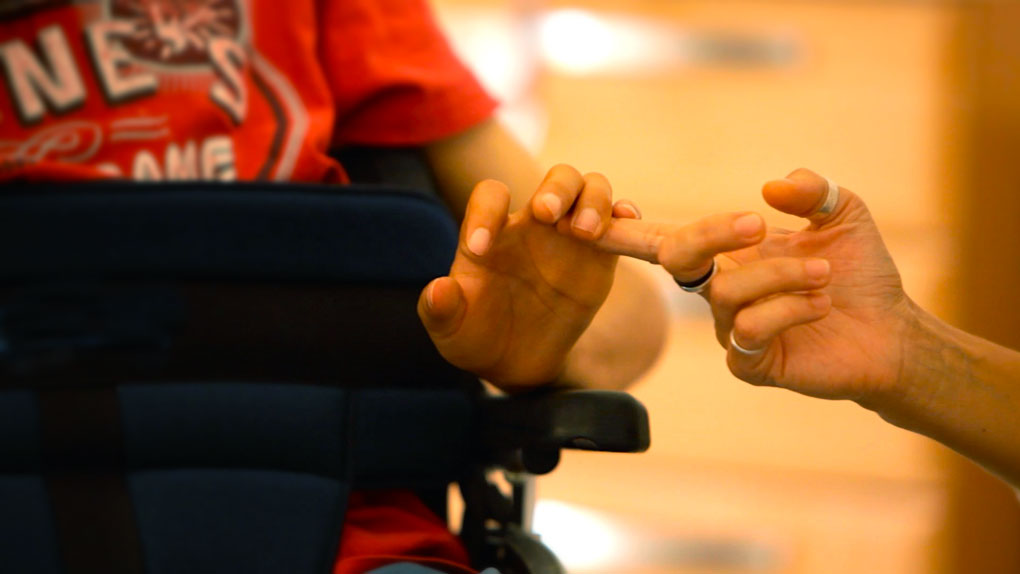 Teresa again: "It is all about helping each person to be the main actor in their own life story. For example, Chiara is another member of the community who does not speak, but using an application with symbols on her phone, she can make herself understood, to share her thoughts, memories and emotions, and expresses her own point of view in a discussion. You should see what immense joy this brings her. At times, we can all easily take relationships for granted: Chiara always shows us how precious these two-way relationships are. "
"In L'Arche, we believe that each person has something important to say. If we communicate only by talking, it is like having a bouquet of flowers with only one color."