What unites Kolkata and London? Many things, probably. Including sheer pain of grief at the death of a close friend. Bapi was a man with an intellectual disability in L'Arche Asha Niketan Kolkata (India). When he died, one of his friends, similarly disabled, said: "Bapi gone. Me. Sad. Big sad. Why you going away?" Life will never be the same again.
"It's hurting in my thoughts." echoed by Peter, a person with an intellectual disability, thousands of miles away in L'Arche London (UK), mourning his friend Carol at the funeral. "Peter," Irene, a long time volunteer and friend of Carol, "I think we are going to be hurting in our thoughts and our stomachs for a very long time. Because we loved Carol and we miss her."
Carol was a community builder. She welcomed generations of new care assistants at L'Arche, neighbours, visitors… She would reach out to shake the hand of anyone she met and ask them, "What's your name?" She would remember you, and not just you, but also the relatives and pets you told her about.
After the ceremony, Carol's bedroom door was kept wide open, so that everyone could go in and spend as much time there as they like. Before Irene went home, she asked Peter whether he would like to go in Carol's room. He jumped up immediately and made his way down the corridor. In the room, he stood still for several minutes. Peter, who is hurting in his thoughts, looked at Carol's photographs and said: "I'm sending my thoughts to Jesus Christ."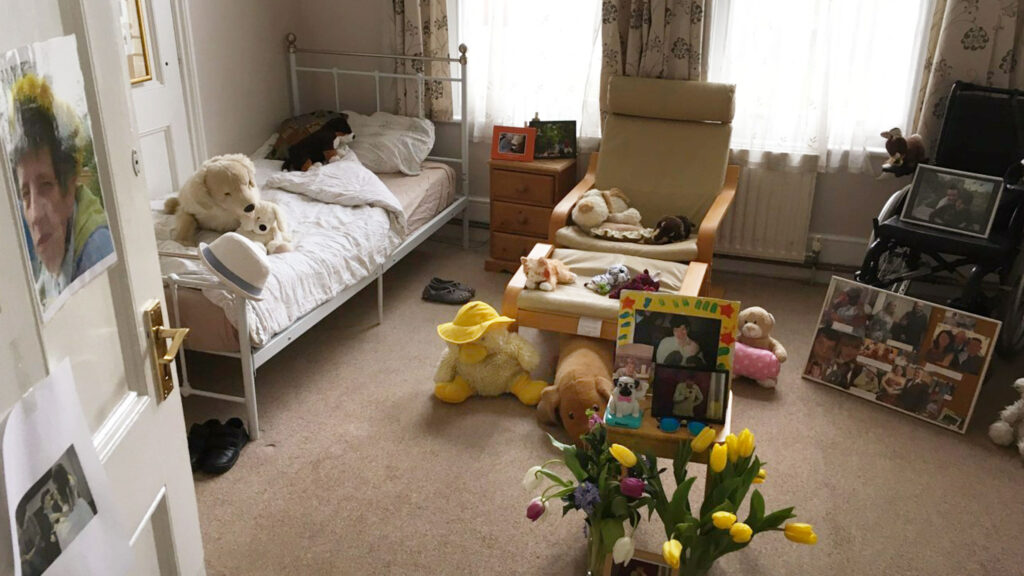 * Photo crédit : Irene Tuffrey-Wijne
Back in Kolkata, Bapi's friends honour their own ancient tradition: "We took Bapi to the burning ghat. We offered the heart to the Ganges River. This way, the heart can reach to God. This is our belief, our faith…"
Across the world's many cultures, L'Arche responds to our common human need to gather to share our grief; making a space where tears and laughter are welcomed… a space for flowers and pictures… a place to be… together… to grieve together. From one ocean to the other, whatever our tradition or culture, we all mourn the one we have loved and lost. And a community can offer a space to remember, honour that memory together, and carry each other's pain.
And that is what unites Kolkata and London.
* A special Thank you to Irene Tuffrey-Wijne, who inspired us to write this article.