Update – September 01, 2022
Independence for Igor:
Donors provide a gift that cannot be wrapped
Igor walks, but – thanks to generous donors – he doesn't use his legs.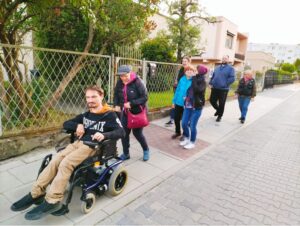 "An electric wheelchair means freedom for me," Igor said. "The freedom of movement.
I am independent."
At one time Igor's mobility was confined to what he could achieve by crawling on all fours. He says it was the easiest way to get around his home in Ukraine's Donbas region.
It is also what made him incredibly vulnerable to war's violence. So much so that friends finally convinced Igor to leave, shoving him and a basic wheelchair into a car to head west.
That journey eventually ended at the L'Arche Community in Poznan, 1,934 km from his home and arriving with a flood of war refugees. Poland's government has welcomed those who have fled violence but the needs of people with disabilities are frequently overlooked.
L'Arche Poznan welcomed Igor and helped him to become acclimated. Yet even as welcoming as the Poznan community was to him, the home wasn't set up for his mobility needs.
That is, until generous donors who value Igor as a human being stepped in. A combination of private individual and organizational donors provided enough support for Igor to secure the use of the electric wheelchair that gives him freedom.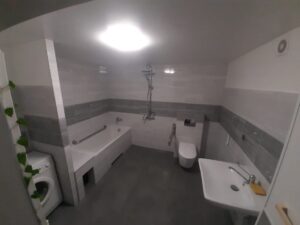 That includes bathing and toileting. Generous support allowed L'Arche Poznan to renovate a bathroom and other areas so that Igor can function independently.
L'Arche communities across Ukraine, Poland and Lithuania transformed nearly overnight to welcome a steady stream of people seeking refuge from war, especially those who live with disabilities. L'Arche has also fostered a burgeoning network near the Poland-Ukraine border that emphasizes caring for refugees with disabilities, connecting families who otherwise would fall through the cracks of a major refugee response, to resources.
For Igor, his biggest resource seems to be his independent spirit.
"Sometimes, I find it hard to ask for help," Igor said. "Now I do not have to ask anyone for help, to please take me to a garden, to the kitchen for a cup of coffee.
"Now, when I want something, I can simply go and get it."