"They give me hope that everything will be okay"
(Photo: Dmytro Fedas)
//= $link['url'] ?>//= $link['title'] ?>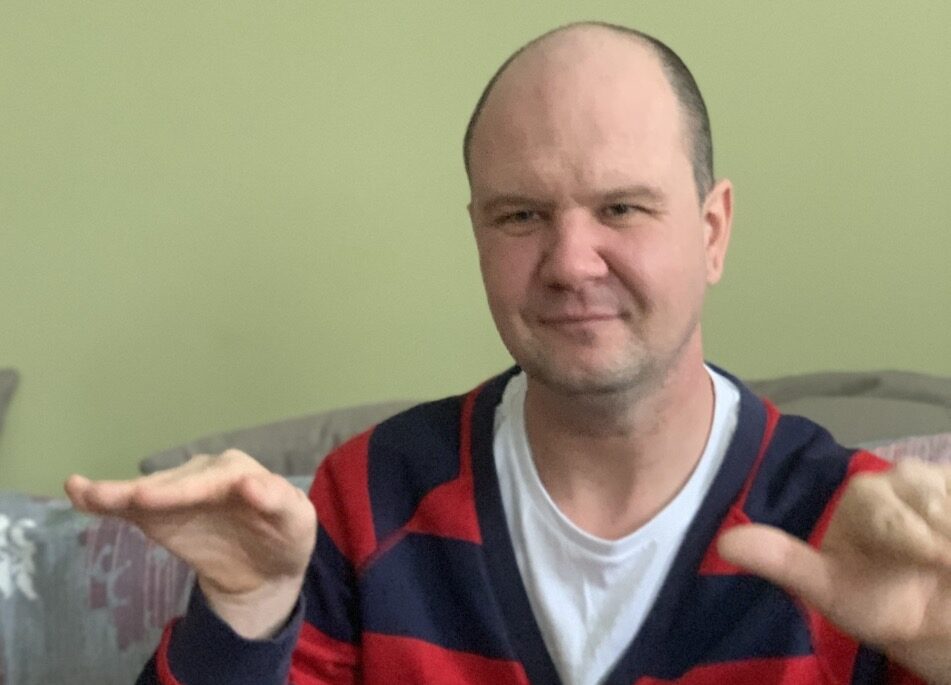 Lyudmyla and Dmytro Fedas enjoyed an idyllic life in Bakhmut, Ukraine until the war came to their front yard.
"His tracksuit pants were drying on the street," Lyudmyla said. "He went out to get them. He opens the door and that's it. An explosion."
Dmytro lives with an intellectual disability, and the explosion severely injured him. Deep wounds on his back and legs have required multiple surgeries that could not be completed so close to the war's front-line fighting.
"An explosion and that's it," Lyudmyla said. "The leg was left hanging on the skin."
Dmytro's need for multiple surgeries has kept the family on the move, navigating the challenges of caring for a person living with intellectual disability, and the chronic physical and emotional trauma of a war wound.
Dmytro "is very sociable," his mother says. "He communicated with everyone… especially in the neighborhood where we lived."
He was even a fixture at their local hospital, where Dmytro helped to unload and greet wounded soldiers.
That was before a land mine blasted their peaceful life away.
After initial treatment to stabilize him at a local hospital, Dmytro was referred to another hospital in Kostyantynivka. Then, three days later, he was sent to Dnipro. After five days there, the family was referred to another hospital in Lviv.
After 9 surgeries on his leg, Dmytro cannot walk on his own. He spent three months in hospitals, followed by two months in a rehabilitation center near Lviv.
"We survived this winter there," Lyudmyla said. "We slept with our clothes on because it was so cold. There was no electricity. Dmytro was screaming, he was afraid. Then it became a question of discharging us somewhere. Where should we be discharged?"
A social worker knew of L'Arche's work to support people living with disabilities, providing shelter and basic needs even as war rages.
"I said, 'God, where have you brought us? You have brought us to paradise," Lyudmyla said. "Dmytro said, 'it's so good here'.
"They just give me hope that everything will be okay," she continued. "I have to hold on. My mum always told me, 'You can't get into a pit alive.' All difficulties must be overcome. One day, it will pass…"