An amazing story of two sisters, both with intellectual disabilities re-united at L'Arche Al-Safina in Damascus.
It was Syria in the late 90s: two little girls, Jamileh (5) and Rita (4), tragically lost both their parents. and were sent by their grandparents to two different orphanages.
Jamileh was based in Maloula, but when that town was invaded in 2014, she was evacuated to Pandalymon orphanage just beside the L'Arche community in Damascus. In the same year, Rita was sent back to live with her by then aged grand-parents, living in a different suburb of the city.
In 2019, Jamileh began attending Al Safina's workshop beside the community house. Later that year, the community opened a second workshop, close to the grandparents' house, which Rita started to attend. The great revelation came when the grandparents told L'Arche that Rita and Jamileh were sisters! Before long, the two were joyfully reunited for the first time in 20 years, and they now live together at Pandalymon and spend their days together in L'Arche.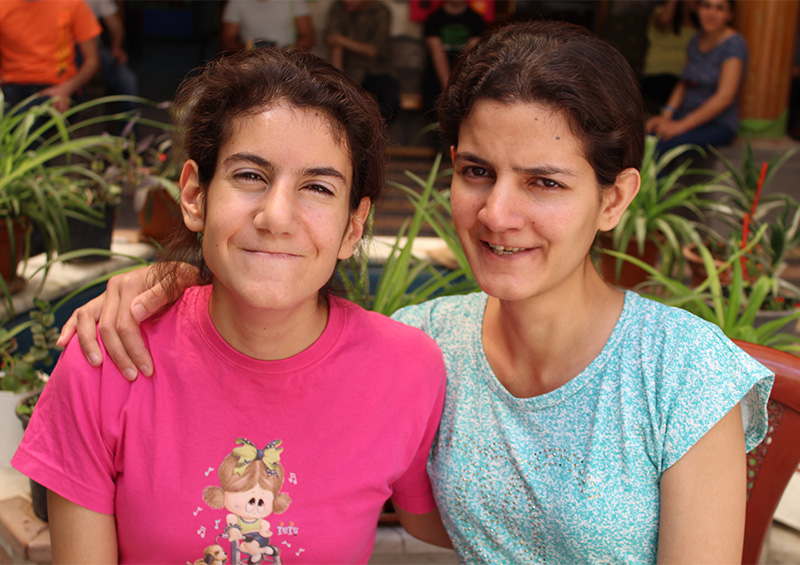 Ghada, director of Al Safina says: "Theirs is no ordinary story: it has taken 20 years for the two sisters to be reunited. Neither can express themselves verbally.  These sisters speak with their eyes not words.  Jamileh feels so responsible for Rita: she watches her constantly, to see if she needs something. Her sense of responsibility is helping us to deepen our understanding of what it means to care for someone."
And their extraordinary story touches many others in the war-torn country, says Ghada: "if Jamileh and Rita have been reunited after so long, then it is possible for our families too. We will one day share the same joy. These sisters give us so much hope."
______