Update – March 30, 2022
Open doors and hearts welcome refugees in Ukraine and in Lithuania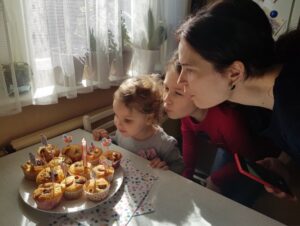 As troops and tanks advanced on the ground and bombs fell from the sky, Khrystyna Bila made peace with her decision to leave Kyiv.
"I only thought about the fact that I must protect my children, to give them food, and keep them safe and healthy," the mother of two children said. "I have to do everything so that my children would be happy and smile. Firstly I'm a mom. I have to survive for them, give them life."
Khrystyna Bila found safety in one of L'Arche's communities in Lithuania, a country where those with deep memories anxiously watch the advance of Russian troops in Ukraine while opening their doors to people in need at the same time.
Around 20,000 have sought shelter in Lithuania as the war there has entered its second month. A national organization has helped to piece together places for refugees to stay. This includes L'Arche communities and even the homes of L'Arche team in Lithuania.
Ugne Gudelyte and her family in Kaunas have sheltered Khrystyna Bila's family, and over the weekend helped Khrystyna Bila's daughter, Nastia celebrate her second birthday – a glimpse of normalcy in a time when worlds have been turned upside down.
At the same time the L'Arche Kaunas workshop house opened its doors to another family from Ukraine: a mother, father, grandmother and three children  – one, a son teenager with disabilities. "We're trying to help his parents find a job," Community Leader Gedas Malinauskas said.  "They are desperate not to be a burden to their hosts."
In Lviv, Ukraine a respite-care home normally offers relief to aging parents of people with disabilities. It is one normal point of connection but, in the middle of the war, it has been transformed into a shelter for guests from the East fleeing the war.
The five workshops that the community in Lviv normally runs have been closed but the leaders now aim to open at least one of them – in the basement of a church where "if there is an air raid they don't need to run anywhere", Basia Wojcik, L'Arche International Envoy for Ukraine and Lithuania said.
"It's really critical for core members to go out a couple of times a week at least," Basia said. "After two years of Covid and now, this terrible war… it's been hard on them. Leaving home and coming to workshop at least every now and then, and spending time together with their friends will help everyone feel better in these difficult times."
Maintaining community in the middle of war is a challenge. For example, there is only one van only for more than 65 core members and their assistants in Lviv. A lack of internet connection, and even computers in many family homes, kept many isolated even before the war.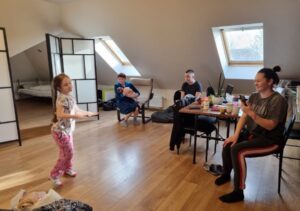 In one hand, L'Arche staff and friends hold doors open to welcome anyone in need, especially people living with disabilities who may need shelter. With the other hand community leaders aim to hold together a sense of community, which is shaped, too by the pressing imperative to welcome strangers in crisis.
"L'Arche helped me to learn how to open my heart, my home and how to welcome guests warmly and comfort them," L'Arche Lithuania team member Ugne Gudelyte said of welcoming Khrystyna Bila and her children into her home.
Bila and her children say they feel safe and welcomed in Vilnius, even if part of her heart remains gripped by the strife and uncertainty in her home of Kyiv.
"For us it is not clear now what will happen and to which direction to build our lives," Khrystyna Bila said. "But I never imagined that people can be so good, so helpful, in another country."
(1st picture: Khrystyna Bila with her children, celebrating a birthday. 2nd picture: Hanna Volka captures a candid moment with her daughter in L'Arche's Kaunas community, Lithuania).
______________
Update – March 23, 2022
'Bedding, food, transportation and more' Donations meet pressing needs amidst war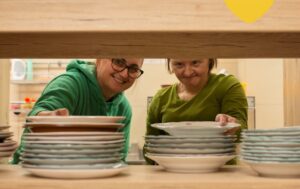 It has been four weeks since war erupted in Ukraine, and L'Arche communities have swiftly adapted to meet the needs of people fleeing violence – especially those caring for loved ones living with disabilities.
"Imagine what it is like to leave everything behind and to try to provide care for someone with a disability as you flee," Vice International Delegate Manca Kastelic said. She oversees L'Arche communities in Europe and the Middle East, which have banded together to offer support.
As fighting escalated, L'Arche Ukraine communities in Lviv and Ternopil opened their doors to those fleeing war in the east. L'Arche homes in Poland and Lithuania, too opened their doors for those who made it beyond the border and need shelter.
What has evolved is an improvised chain of support helping people with and without disabilities. Assistants, Board members, friends, and others from L'Arche Poland work together to offer shelter, meals, donated goods and meeting other needs.
A L'Arche Poland van traverses the nearly three-hour drive from the closest L'Arche community to Ukraine border with donated supplies for refugees. A similar L'Arche community van brings people living with disabilities from the Lviv L'Arche community in Ukraine who continue on to safety in the van from Poland as it returns home.
"Our homes in Poland are filled with people who need shelter and care," Manca said. "We are in need of mattresses, bedding, food, transportation and more."
"People came without anything, so we take care of everything: clothes, food, medical care," L'Arche Lithuania Community Leader Ruta Domarkaite – Cerniauske said from Vilnius. "Friends of the community contribute with financial donations, emotional support, donations of things, toys. We would still be open to accepting people in the workshop premises, turning the office rooms into bedrooms."
The U.N. reports around 20,000 Ukrainians have fled to Lithuania and more than 2 million refugees have sought shelter in Poland, where L'Arche communities have shifted and shared resources to accommodate a growing number of people. Bedding is a concern in Ukraine too: Poland sent along 50 sleeping bags to the Lviv community, which have all been used.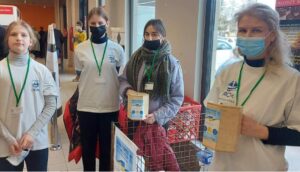 The Polish and other governments will be providing financial and other assistance to individuals and groups like L'Arche that are providing help but, so far, relief has yet to come.
The L'Arche Emergency Fund is intentionally unrestricted so that it can be most flexible in times of crisis, in Ukraine, Poland and other places where disaster and harm pose significant risks.
"The Emergency Fund is helping us make a difference in the lives of families fleeing war, and especially those caring for people with disabilities," Manca said. "People with disabilities and their particular gifts are at the heart of what we try to live together in L'Arche. Today, in this dark hour for humanity, we reach out together with them and welcome those in need."
(1st picture: The L'Arche Gdynia community in Poland has opened its doors to refugees from Ukraine. Nearly 20 people now sit at their common table for meals. 2nd picture: Friends of L'Arche Poland and their guests from Ukraine sought donations from customers at a grocery store)
______________
Update – March 15, 2022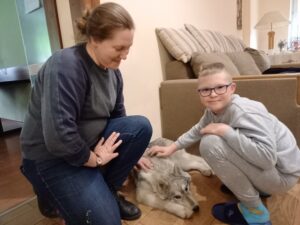 L'Arche Communities in Poland offering support to people in Ukraine
All members of our communities in Lviv and Ternopil are ok for now, no one has left their home yet – and they are doing what they can; making bread in the middle of the night, making camouflage nets, sharing resources. The community in Lviv has now welcomed 10 people from eastern Ukraine including two mothers with children with intellectual disabilities. The air raids are getting more and more severe in the west of the country. They ask us to keep them in our prayers.
So far Poland has welcomed more than 1.7million people refugees from the war in Ukraine. The five L'Arche communities in Poland are working to welcome as many people as possible, particularly families with a child with intellectual disabilities. They are providing accommodation, food, medication, help with paperwork, accessing schools, finding jobs, finding psychological support, and sometime just someone to listen. The situation changes daily but right now:
The National Leader, Agnieszka Karolak says: "Many more people have also been welcomed by live-out assistants, board members and the friends of the community. Of course, we need financial, material and hands on help from our all their friends for this work. We are hoping for formal help from the government but there will be nothing for at least a few more weeks. We continue to work in partnership with other organizations to distribute and share resources and information."
______________
Update – March 3, 2022 
The inhabitants of Lviv and Ternopil try to do all they can for others
Basia Wójcik, International Envoy for L'Arche Ukraine, reports:
"Both cities, Lviv and Ternopil, where our Communities are located, are relatively far from armed conflicts for now. The main goal of everyone today in Ukraine, the members of our Communities included, is to survive and to help others survive.
The inhabitants of both cities, including members of our Communities with and without intellectual disabilities, try to do all they can for the benefit of their country: first of all, they take in refugees, some for the entire duration of the war, others who are on their way further west, temporarily. Our community's house in Lviv welcomed a group from Kharkov in the East several days ago already. Today (3rd March) children from eastern Ukraine who have lost their parents arrived to Ternopil. The city is organizing safe places for them to stay. Besides, many members of our Communities are engaged in baking bread and preparing other food products for long-term storage. Core Members from both communities are staying with their families at home. They are all safe for now.
Communities receive many expressions of support from a number of Federation communities and from individual members. L'Arche in Poland and in Lithuania have offered to welcome refugees from L'Arche in Ukraine. Cash collections are organized in many places.
The way the war develops fills our Ukrainian friends with great optimism. They are suffering greatly because of the victims, orphaned children and the destruction of their homeland. However, they are well organized, strongly motivated and full of energy. They look forward to the future with optimism, all the time hoping for a quick end to the war. They are grateful for all the gestures of solidarity and any help they can get."