During the many years that Youssef lived in L'Arche Al Safina, Damascus (Syria), he used to like nothing better than sitting outside in the sunny courtyard, smoking his favourite cigarettes. Usually in the company of Ghassan (Sano), his older brother. If you would see them there, you could easily get the impression that peace, goodwill and relaxation were all that they had ever known: but you would be wrong! As small children, Ghassan and Youssef had been unlucky enough to catch meningitis. This disease irreversibly affected their abilities. Their parents were suddenly plunged into a difficult situation; Ghassan and Youssef found themselves inside the walls of a psychiatric asylum. They never saw their parents again.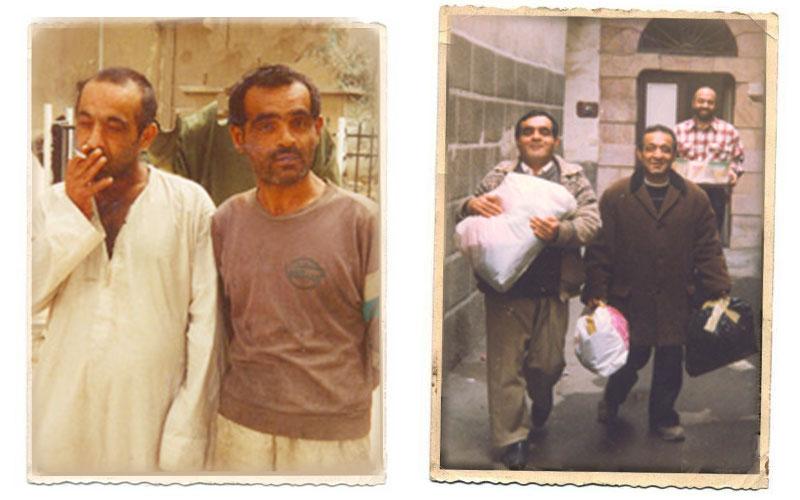 *1st picture: At the asylum; and 2nd picture: When Youssef and Ghassan arrived at L'Arche
How can we overcome such an experience? Fraternal relationship! Inseparable, Youssef and Ghassan supported each other. A long time later, when listening into the silence, with open hearts, Rima and Assad met them and ask: "would you like to come and help us found a community here in Damascus?"  That was 22 years ago.
Both Youssef and Ghassan have now passed away, but their spirit remains alive in the hearts of the community, like a light in the darkness, flashing out a message of enduring hope: when you are facing the challenge of hard times, even just one relationship of trust can make all the difference. Knowing that we are not alone; knowing that our life matters not just to us, but to someone else – this brings new life. Community is founded on such relationships: Youssef, Ghassan, Rima and Assad have shown how to break down the walls of despair and open the door to real hope.